Monday Mini's: Unpacking game
Hello bookworms!! Welcome to Monday Mini's, where today we will be looking at the game, Unpacking — something slightly different for this week!!
Just in case you've been wondering where I've been (because, I have not been blogging or reading much lately), I have been lying in my bed with a chest infection since last Wednesday. I didn't do a great deal outside of coughing, reading, coughing, watching tv, coughing, gaming and … coughing. But, I'm pleased to say that I am feeling much better, and my throat hurts a lot less too.
I had so much love from the last Monday Mini: Graveyard Keeper review, and I've been thinking about this Monday Mini category in general since then. And I think I'll be aiming for more game reviews with it in future. Which means there will be a lot more 'cosy game' content here, because that's basically all I play. I hope you're ready!!
Mini game review: Unpacking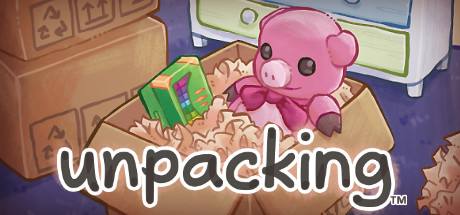 Title: Unpacking
Developer: Witch Beam
Release date: November 2021
Players: 1 (single player only)
Platform: Nintendo Switch, Xbox, PC/Mac
Genre: Puzzle, cozy, relaxing
Steam link
Unpacking:
Unpacking is a zen puzzle game about the familiar experience of pulling possessions out of boxes and fitting them into a new home. Part block-fitting puzzle, part home decoration, you are invited to create a satisfying living space while learning clues about the life you're unpacking.

Unpacking is a relatively new game. It only came out in November last year, and the first time I heard about it was on Truffle's Literary Wonders' twitch stream (Emika the Architect). I've had it since mid-February. Since then I've finished it twice. Yes, finished it. The game itself has about 4 hours of playtime, but it is definitely one of those games you can play over and over again.
The story itself focuses on your main character ― of whom you don't know what they look like, or their name. That's right, you never actually meet them. But you get to learn a lot of things about their life. Particularly the really big things, such as interests, careers and relationships ― because these are the things that can impact when you move house.

The storyline definitely has its highs and lows, but to be honest one of the only negatives I have is that it's too short. I feel like we could have seen another 2-3 moves with big life scenes depicted. Moving to a bigger house, or a different place would have been cool ― and then downsizing as the main character was older as well. It did end on a really nice high though.

In terms of positives, the game itself is so good. The object of the game is literally to unpack the main character's boxes each time they move. You start when they're a child, and the majority of things you unpack are soft toys and art supplies into your bedroom. As you go through the different phases of the person's life, you open up more room options (a bathroom at college, and then a kitchen) as well as more types of things to unpack. It's at this point that some of the unpacking becomes a puzzle as certain things belong in certain rooms. And there's a couple of things that have a particular place throughout the game, but mostly it's up to your choice. (So long as you aren't putting cutlery in the bathroom.)
Overall, this is one of the most zen games I've ever played. It's so calming and relaxing ― the perfect game to unwind with at the end of a long day. There's no stress at all, as even the puzzle components of the game aren't super hard (and if you're really stuck, there's always google).

Have you played Unpacking?