Monday Mini's: Cat Cafe Manager game
Hello bookworms!! Welcome to Monday Mini's, where today I will be talking about the video game, Cat Cafe Manager!!

I had been waiting for this game to come out for, what feels like, years. Seriously, this game had so much hype over the past few months. Especially in the cozy game circles. I thought that it was going to become my 2022 game of the year.

If you aren't aware, I've been reviewing a bunch of COZY GAMES that I play. Cozy Games are low-stress games that have little to no combat, and really don't require any gaming expertise or knowledge. Button mash all you like. The games themselves are predominantly story driven, and are just generally cute.

If you're interested in previous games I have reviewed, please see below:
Graveyard Keeper
Unpacking
Spiritfarer
Cozy Grove
Untitled Goose Game
So, let's go take a look at Cat Cafe Manager!!
Mini game review: Cat Cafe Manager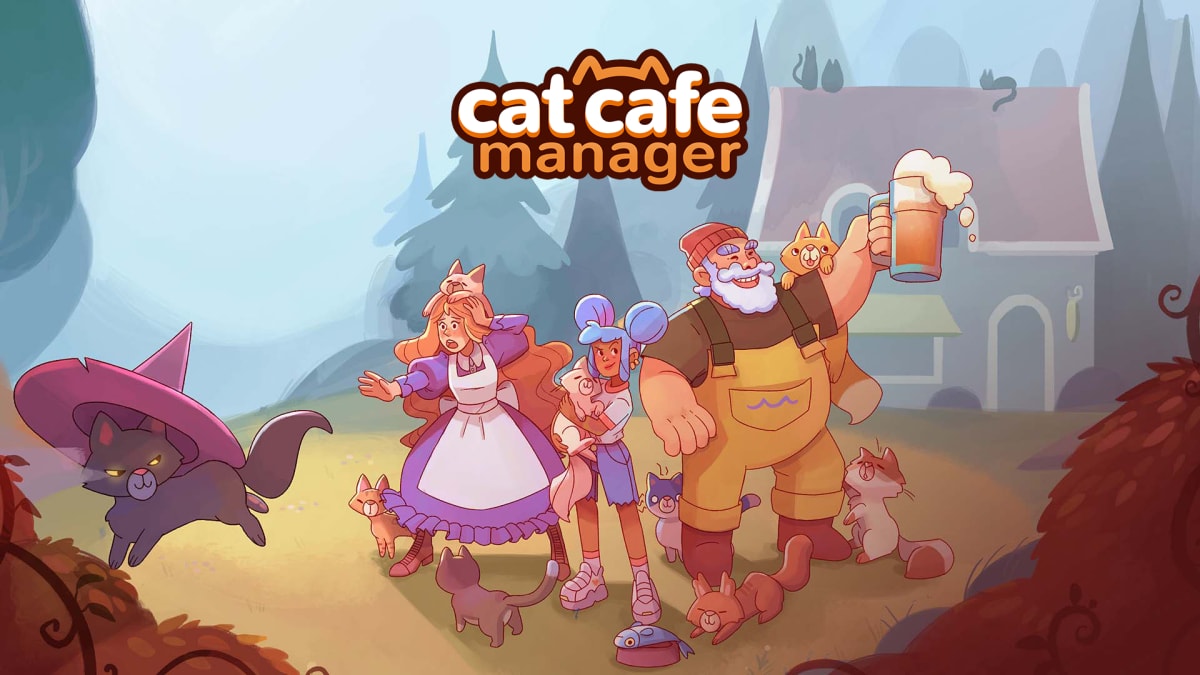 Title: Cat Cafe Manager
Developer: Roost Games
Release date: April 2022
Players: 1 (single player only)
Platforms: Nintendo Switch, PC/Mac
Genre: Simulation, Strategy, Management, Indie
Steam link
Cat Cafe Manager:
Travel to the sleepy village of Caterwaul Way and rebuild your grandmother's cat cafe. Renovate your restaurant, befriend the local cats and townsfolk, forge lasting friendships, unravel catty mysteries, and build a home for dozens of unique felines!

I hate saying this, but I am surprisingly disappointed with Cat Cafe Manager. I say surprisingly, because I thought this game was going to be RIGHT up my alley. In fact, I was convinced it was custom made for me as the intended audience. Obviously not really, but also kind of not-really-joking. Hear me out.
I played ALL of the Diner Dash games on Nintendo consoles and mobile. I have 3 cats. And I love family-quest style games (i.e. Stardew Valley). This game felt like it was inevitably going to be amazing. But, for me, it just fell short. By a lot. Maybe I have higher standards now?!
The game is relatively simple. You come to town, there's some text-based story telling, and you meet the locals. Then you start to build your cat cafe. You buy furniture, encourage some local cats to live with you, set your menu, and then you run a cafe! Honestly, it could not be more simple. The problem I had was that the over-simplicity is part of the downfall.
The game concept itself is simple, but the gameplay is more difficult than it needs to be. For instance, there are 6 different types of customer, and they all pay with different types of currency. The types of currency can then only be spent on specific things, i.e., to restock food for menu items, you can only use the currency that witches pay with. To entice more witches, I tried to use more of the 'witchy' decor. But that doesn't have any effect.
Other annoyances included that my cats never played with the toys I sprinkled LIBERALLY throughout my cafe. In fact, the toys just took up floor space and got in the way of people walking. Customers don't only request food that is on your menu, but instead will request any food item you have unlocked. Regardless of whether you can make it with ingredients in your inventory or not. Which then makes the menu redundant. And if you serve customers food that they haven't requested you are penalised. But if you don't serve them, they take up valuable table space, meaning you can't serve other customers. And the table space is limited.
I finished the main storyline in about under 4 hours. I thought it wouldn't happen until all the upgrade tree was unlocked, but the game just… ended early? Of course you can continue to play, but given the weird currency issues I haven't continued yet.
Overall it's fair to say I found the game rather disappointing. I wish some parts were more challenging, and others less constricting. But, I guess it is what it is. It's just a shame considering how hyped the game was.

Have you played Cat Cafe Manager?