Hello bookworms!! Welcome to Top 5 Tuesday!! This week's topic is top 5 places to read.

So far in May I have been hungry and then thirsty. Now I have the travel bug… This post has made me remember all the amazing places that I have read books and I want to go out into the world again!! But first, let's look at some of my favourite places to read, first!!

If you missed the April-June 2022 topics, they are out now! Top 5 Tuesday was created by Shanah @ Bionic Book Worm, and is now being hosted here @ Meeghan reads.
top 5 places to read
Armchair in my library/home office
This very comfy armchair is where I do the majority of my reading. Although the photo is a bit old now, I have perfect access to a little stool that I use as a table. And I've popped in a reading lamp too.
The room has a huge window that faces north (perfect for lots of winter sun), and two of the other walls have 3 bookshelves each (the Billy bookcases from IKEA). There's also a desk with my personal and work computers set up on it.
But the armchair is the best. I shopped around for the perfect one for a year before I bought. It's a 1.5 seater, big squishy armchair, that still has good back support. So it's the perfect size to curl up in.
Bed
I am also a bed reader. Which means there is a stack of book reading paraphernalia on my bedside table. I keep my iPad, booklight, an extra bookmark and a spare booksleeve in one of the drawers.
This is not a photo of my bed though, as I couldn't find one presentable enough, and I am way too tired to clean my room right now. Plus all my photos are more focused on the cats than the actual bed / bedside table.
Poolside / On a beach
I am 100% a beach / pool / hot weather relaxing holiday person. Adventure stuff is fine, but I would much rather pack a suitcase full of books and swimwear to go on holidays.
This is a photo of me doing exactly that way back in 2009 when we went to Bali. I'm sure I've replicated this at every holiday destination since so long as there has been a pool and/or beach nearby. But my absolute favourite trip was to Fiji in 2015 where I literally packed 12 books for our second week (first week was a friend's wedding). I went snorkelling with tropical fish and reef sharks(!!) every morning, and sat next to the pool, reading and drinking cocktails every afternoon. BLISS!!
Fireside
Again, an image stolen from google, but, weirdly, I don't have any photos of me reading while snuggled under a blanket by the fire. Which actually is quite weird, considering we holidayed (honeymooned) across Europe in the winter of 2017/18 and I'm pretty sure I did this. A lot. I definitely drank a lot of mulled wine and hot chocolate (but separately) in front of fireplaces. Especially when it was snowing!!
I do remember one place in particular in Denmark where we stayed. It was a converted school house that is now an AirBnB. As we were the only guests that night they let me do a bunch of washing, and I hung out all our clothes in front of a fireplace and read (probably the Vampire Academy series) for actual hours.
While travelling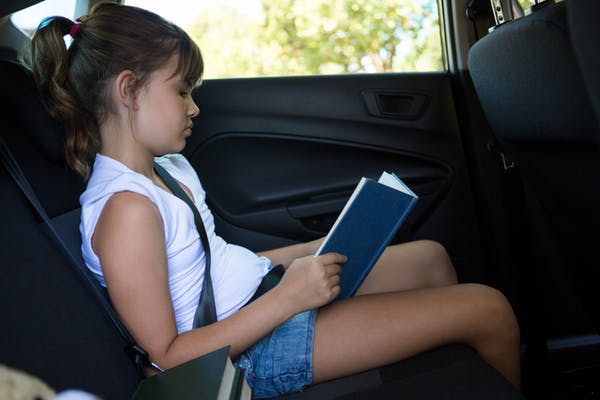 I am a very fortunate person because I am one of the very few people I know who can read while travelling. It doesn't matter if it's a car, bus, train, plane, boat ― I can read in any moving vehicle without getting carsick. I think it's because I've been doing it since I was a child (again, not a photo of me although there probably is one somewhere). So I actually do a lot of reading when travelling.
We used to live in Melbourne, and most of my family was still around Canberra area, which is about a 700km distance. It's about a 7 hour drive, including a stop for petrol and food at the halfway point. And (when I wasn't driving) I could easily read a book on that trip. If I was driving, then I usually pop on an audiobook ― The Scorpio Races made that trip with me several times.
Please don't forget to link to one of my posts (not my homepage or a category, as I won't get the pingback), or comment your link below, and I will link back to all of your posts as soon as I can!!
PARTICIPANTS
Happymess Happiness
Wicked Witch's Blog
Katie's Cottage Books
The Punk Theory
Books Are 42
Less Than Three D
Becky Bookstore
Kerri McBookNerd
Biblio Nerd Reflections
Lady Book Dragon
Peat Long's Blog
DB's Guide to the Galaxy
Reading Buffs
What are your top 5 places to read?