Happy Tuesday bookworms!! This week's top 5 Tuesday is all about your favourite characters whose names begin with the letters F-J.
Umm, so this may really be "all" of my favourites. Look, I'm bad with limits ok? I'm a subscriber of the Mean Girls theory: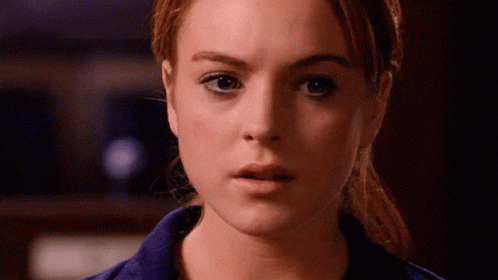 Please don't forget to either link back to a specific post of mine, or drop your post link below in the comments – either way hopefully I will see it!!
Top 5 Tuesday is back!! If you missed the September topics post, please click here, to check what topics we have for the remainder of this month!! Top 5 Tuesday was created by Shanah @ Bionic Book Worm, but is now being hosted here, @ Meeghan reads (this is still weird… maybe one day it will feel normal?!)

Top 5 characters F-J

F is for Fitzwilliam …
Yes, we're starting this week with a CLASSIC character, because let's be honest, Fitzwilliam Darcy is where it's at. No questions asked, let's all just be on our merry way. This disgruntled man epitomises the moody, sulky, sarcastic, grumpy man that I love in all of my 'heroes'. But honestly, I would probably storm off if I had to be in close quarters with the man in real life.
Although, my husband rarely dances and can be quite cranky at times… so maybe I wouldn't. He likes my 'fine eyes' as well… OMG. Did I marry Darcy??
… and F is also for Fenestra
Yes, our first non-human characters goes to Fenestra!! Fen (for short, if you don't value your life too much), is a magnificat from the Nevermoor series. Which is basically just a giant cat who talks. Fen is about 90 shades of awesome though, and I cannot wait to learn more about her in Hollowpox later this month!!
So far we know that she was a cage fighter in a former life, and is now the head of housekeeping at the Hotel Deucalion.
She would probably also give Darcy a run for his money in the sarcasm / grumpy / moody stakes. ?
Honourable mentions: Finian (Aurora Rising); Flora (Her Royal Highness); Frank (Nevermoor); Frances (The Prince and the Dressmaker).
---
G is for Gansey …
Oh yes… This list will very likely contain ALL of the characters from all of Stiefvater's books (that I have read), but mostly they will come from The Raven Cycle. Which actually works out really well in this instance because Blue basically held this exact spot last week. The less editing the better!! ?
Gansey is the unofficial leader of the Raven Boys. He is an old man, trapped in the body of a teenager – wise beyond his years. He is less interested in the scrapes and troubles the rest of them get into, and more into following ley lines and hunting for dead kings. Long live, Gansey!!

… and G is also for Grey
I know, I know. TWO BOYS in a row!! However shall we persevere?! It's alright, I've got you covered later. Now, you may notice that I've picked the sequel cover for this one. It's because I didn't like Grey in the first book. I thought he was kind of boring. Stoic. Too much the guard. He reminded me of Chaol (snooooore).
But, then we had book two, which was from Grey's perspective. And you find out that he presents this guarded front, but inside (deep inside), he is magical and amazing and kind and gentle. And now we stan Grey, alright?! (TBH Kemmerer did this way better than Maas. Tower of Dawn was fine, but Chaol was still a jerk. This is brilliant. Grey is bae. That's all you need to know!!
Honourable mentions: Glynn (Legendsong); Gytha (Discworld); Greebo (Discworld); Gretel (Darkwood); Garion (The Belgariad).
---
H is for Harper …
Yes!! Harper!! She kills it. Literally, I'm 98% certain that Harper would kill it dead. I'm kind of glad that it was Grey teaching Harper how to handle knives, and not say, Jude or Mia, because can you imagine the level of stabbiness that Harper would enact if they were her blade guides?
Anyway, Harper is a badass, but at the same time, she is so pure. Like, she's basically bordering on naïve – not that I would say that to her face. So, ICYMI, Harper is from our world and has cerebral palsy. One night she witnesses Grey essentially kidnapping a woman and tries to stop him (see? so pure), and instead winds up in a Beauty and the Beast retelling type world. Where she kicks the prince's butt and tries to rescue the kingdom. Honestly, she's just so ???

… and H is also for Henry
Speaking of adorable teenagers who want to save a kingdom… have you met Prince Henry from Red, White and Royal Blue?? Willing to sacrifice his own happiness by pretending to date a girl when he is totally not into girls at all, is… well, it's stupid, but this is the monarchy after all. Anyway, Henry (and Alex) are freaking adorable and deserve to be fed warm cinnamon rolls and cups of tea forever. Honestly, I don't know anyone who didn't love this book, and just thinking about it now makes me want to reread it immediately. Although, I do seem to have a thing for royal fiction…
Honorable mentions: Hawthorne (Nevermoor); Henry (The Raven Cycle).
---
I is for Isabeau …
Ahhh, Isabeau, my sweet, sweet baby. This one (two?) are a little different for me. Because it has been so long since I've read the books, I genuinely can't remember much about them except that I just loved the characters so much. Being the chosen one is hard. Being the one who everyone thinks is the chosen one, but without getting any of the benefits is probably harder.
Isabeau is raised by Meghan the Witch in the woods of Eileanan, taught magic in a world where it is banned (and honestly, if that isn't the best origin story ever then I don't know what is). But what I do remember is that Isabeau is bright and curious, a talented young witch with an affinity for animals. But most importantly, she is strong at heart.

… and I is also for Iseult
Iseult is a Scarred Warrior from a different part of Eileanen, where fighting is how you earn your stripes (literal scar stripes), respect and place in the tribe. She's strong-willed, but also respectful and more willing to follow orders.
In some respects Iseult's rigid upbringing in the clans puts her in a better stead than Isabeau's freedom in the woods. It's kind of like comparing Merida (Isabeau) to Mulan (Iseult). But they're both incredibly brave characters. They are also linked much more than either of them ever knew, and their fate is wrapped up in the fate of their world.
Honourable mentions: Ivan (Enchantment); Isabelle (Mortal Instruments); Isla (Isla and the Happily Ever After).
---
J is for Jude …
Ahh… the stabbiest of ladies, my favourite, Jude Duarte. You know, people often say that Mia is the stabbiest character, but I feel like Jude would be worse. She may not have killed as many people, but it's certainly not for lack of trying, and Jude isn't a trained assassin. She's just earning her place in a faery court. Nothing to see here!!
But seriously, the reason that I love her so much is because she's a fighter. Damn that girl can hold a grudge, and plan and scheme, and I love her so much for it. Kick dirt in her food? No worries. She'll salt yours when your back is turned. It's the sneakiness and the retaliation that make me love her so much.

… and J is also for Jupiter
I know we started here, but we're going to end here too. Captain Jupiter Amantius North of the Wundrous Society, the League of Explorers and the Federation of Nevermoorian Hoteliers. Jupiter is honestly the most amazing treasure of all characters in existence. He has such a fantastic knack and he could have been so jaded by it. But he's just the opposite.
Jupiter is kind and sweet and smart and brave. He wants to do what is right by everyone, and he is willing to put up with a lot to make others happy. But he does it all so cheerfully, and is so whimsical in his own right. But mark my word, if anyone tries to hurt those who he cares about, they had better get a good head start, because he will destroy them. Honestly, he's just one of my favourite characters ever.
Honourable mentions: Joshua (The Hating Game); Janco (Poison Study); Jo (Little Women); Jace (Mortal Instruments); Jem (Infernal Devices); Jamie (A Study in Charlotte); Jordi (The Summer of Jordi Perez).
Please don't forget to link to one of my posts (not my home page), and I will link back to all of your posts as soon as I can!! (Because I know it's Tuesday morning here, but it's probably still Monday lunchtime elsewhere…)
PARTICIPANTS
The Book Connection
Zezee With Books
The Punk Theory
Birdie Bookworm
Jamsu Dreams
A Fictional Bookworm
Evelyn Reads
Beware of the Reader
Ketutar Writing
Pine Tree Books
Wonderwall
DB's Guide to the Galaxy
The Irresponsible Reader
Strange Storyteller

Who are some of your favourite characters?