Hello bookworms!! Welcome to Top 5 Tuesday!! This week's topic is top 5 creepy covers. Which means, we are in the spooky month of October!!
I don't know about you, but covers can put me off a book or push it up my TBR. Covers can even somehow knock books into my shopping cart. Unreal, I know. The below books were all recommended to me, but it's highly likely that I will read them, because the covers scare the absolute bejeebers out of me!! Except for the last one. We'll see… It's not like I don't have 452 other books on my TBR to get through first!!
Hi, still catching up from the blog being down for 10 days or so. Please be patient with me!!
If you missed the October-December topics please see this link. Top 5 Tuesday was created by Shanah @ Bionic Book Worm, and is now being hosted here @ Meeghan reads.
top 5 creepy covers
Nothing But Blackened Teeth — Cassandra Khaw

I mean, this is just a hard no from me. There is nothing about this book that even makes me want to waver. I'm normally ok with monsters, but it turns out I don't like monsters without eyes. Unless they're on Stranger Things.
Blurb:
A Heian-era mansion stands abandoned, its foundations resting on the bones of a bride and its walls packed with the remains of the girls sacrificed to keep her company.
It's the perfect wedding venue for a group of thrill-seeking friends.
But a night of food, drinks, and games quickly spirals into a nightmare. For lurking in the shadows is the ghost bride with a black smile and a hungry heart.
And she gets lonely down there in the dirt.
The Case Against Satan — Ray Russell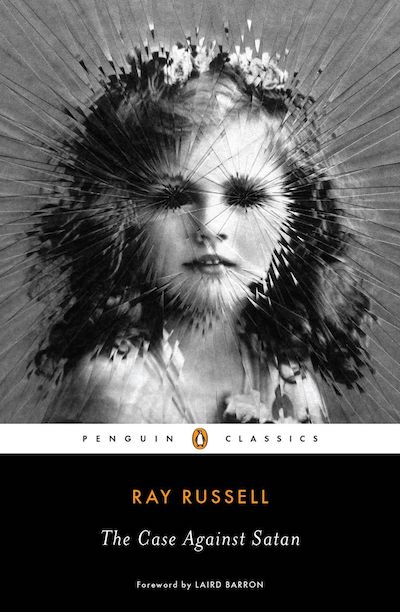 Not sure about you, but this is the type of cover that kind of makes me want to run screaming into the dark. Away from it. Creepy children, as we learned, is a BIG hard no from me. And the black eyes and shattered glass / needle effect really push this book off the side of a cliff for me. Although, I get the feeling that if I threw this book away, it would find its way back into my house somehow.
Blurb:
Teenager Susan Garth was "a clean-talking sweet little girl" of high school age before she started having "fits" — a sudden aversion to churches and a newfound fondness for vulgarity.
Then one night, she strips in front of the parish priest and sinks her nails into his throat. If not madness, then the answer must be demonic possession. To vanquish the Devil, Bishop Crimmings recruits Father Gregory Sargent, a younger priest with a taste for modern ideas and brandy. As the two men fight not just the darkness tormenting Susan but also one another, a soul-chilling revelation lurks in the shadows—one that knows that the darkest evil goes by many names.
IT — Stephen King

Like, this book has always been a no for me. But adding Bill Skarsgård's face to the cover does not help. In fact, it makes it worse. Like, I have seen Hemlock Grove so I already know he can make his face creepy. I don't need to see him in clown makeup. Although, whoever cast him as Pennywise is likely a genius. (Not that I can confirm because I also refuse to watch the movie.)
Blurb:
Welcome to Derry, Maine. It's a small city, a place as hauntingly familiar as your own hometown. Only in Derry the haunting is real.
They were seven teenagers when they first stumbled upon the horror. Now they are grown-up men and women who have gone out into the big world to gain success and happiness. But the promise they made twenty-eight years ago calls them reunite in the same place where, as teenagers, they battled an evil creature that preyed on the city's children.
Now, children are being murdered again and their repressed memories of that terrifying summer return as they prepare to once again battle the monster lurking in Derry's sewers.
Miss Peregrine's Home for Peculiar Children — Ransom Riggs

I don't know what it is about these books, but I find the covers so freaking creepy. They're just old-timey black and white photos. Kind of got a gothic vibe to them. It's possible the font also adds to the creepy factor. I don't know. But I own books 1-3, and I have never been inclined to read them. For this reason.
Blurb:
A mysterious island. An abandoned orphanage. A strange collection of very curious photographs. It all waits to be discovered in Miss Peregrine's Home for Peculiar Children, an unforgettable novel that mixes fiction and photography in a thrilling reading experience.
As our story opens, a horrific family tragedy sets sixteen-year-old Jacob journeying to a remote island off the coast of Wales, where he discovers the crumbling ruins of Miss Peregrine's Home for Peculiar Children. As Jacob explores its abandoned bedrooms and hallways, it becomes clear that the children were more than just peculiar. They may have been dangerous. They may have been quarantined on a deserted island for good reason. And somehow — impossible though it seems — they may still be alive.
The Monster of Elendhaven — Jennifer Giesbrecht

I don't actually know if it's the book or the synopsis or a combination of the two that makes me apprehensive about this one. Like, I think I might want to read it. But at the same time, it's giving me Slender Man / The Babadook vibes. And to be quite frank, even though I'm ok with monsters (99.8% of the time), I could barely get through the trailers for those movies. So… still unsure on this one.
Blurb:
The city of Elendhaven sulks on the edge of the ocean. Wracked by plague, abandoned by the South, stripped of industry and left to die. But not everything dies so easily.
A thing without a name stalks the city, a thing shaped like a man, with a dark heart and long pale fingers yearning to wrap around throats. A monster who cannot die. His frail master sends him out on errands, twisting him with magic, crafting a plan too cruel to name, while the monster's heart grows fonder and colder and more cunning.
These monsters of Elendhaven will have their revenge on everyone who wronged the city, even if they have to burn the world to do it.
Please don't forget to link to one of my posts (not my homepage or a category, as I won't get the pingback), or comment your link below, and I will link back to all of your posts as soon as I can!!
PARTICIPANTS
Jillian the Bookish Butterfly
Kira Jeanette
The Punk Theory
Mikaela Reads
A Fictional Bookworm
Evelyn Reads
Zezee with Books
Reading Buffs
Here Be Dragons
DB's Guide to the Galaxy
Books and Dachshunds
What are your top 5 creepy covers?