Monday Mini's: Untitled Goose Game
Hello bookworms!! Welcome to Monday Mini's, where today I will be talking about the video game, Untitled Goose Game!!

I really love this game for a few reasons, but one of the biggest is that it won game of the year in 2019, which is amazing. Especially considering that it was made by a 4-person team in Melbourne, Australia. I love sharing books by Aussie authors, so I'm so excited to share games by Aussie developers too!!

If you aren't aware, I've been reviewing a bunch of COZY GAMES that I play. Cozy Games are low-stress games that have little to no combat, and really don't require any gaming expertise or knowledge. Button mash all you like. The games themselves are predominantly story driven, and are just generally cute.

If you're interested in previous games I have reviewed, please see below:
Graveyard Keeper
Unpacking
Spiritfarer
Cozy Grove
So, let's go take a look at Untitled Goose Game!!
Mini game review: Untitled Goose Game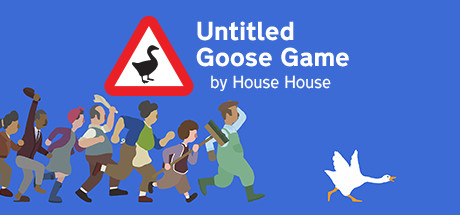 Title: Untitled Goose Game
Developer: House House
Release date: December 2019
Players: 1 or 2 (single or co-op)
Platforms: Nintendo Switch, PS4 Xbox One, PC/Mac
Genre: Puzzle, Stealth, Simulation, Indie
Steam link
Untitled Goose Game:
It's a lovely morning in the village and you are a horrible goose.

Untitled Goose Game is a slapstick-stealth-sandbox, where you are a goose let loose on an unsuspecting village. Make your way around town, from peoples' back gardens to the high street shops to the village green, setting up pranks, stealing hats, honking a lot, and generally ruining everyone's day.

Featuring a horrible goose (that's you), a town full of people just trying to get on with their day (you hate them), and a dedicated honk button!!!

I have never had so much fun as a chaos gremlin in a game as I have with this game. Which is actually the whole point of Untitled Goose Game. Yep, causing mayhem and being a general pain in the ass is your goal. And I love it. I've played this game a few times now, and it just gets better every time I play.
You play a goose in an English-style village, and in each section of the game you have a list of objectives to achieve. Things like 'steal the groundskeeper's keys', 'trap the boy in the phone booth', and 'wear a ribbon'. But, depending on how you go about these objectives, you may also achieve secret goals, like 'lock the groundskeeper out of the garden'.
The game itself is a fun, stealthy puzzle game, but with very little consequence if you stuff up. The worst thing that happens is you get chased out of the area (although you can normally find somewhere to hide), and someone moves the thing you were trying to pick up.
As a gamer with very little skill, some of the objectives were a medium difficulty, but later I realised it was more because I was trying to go about the objective in a difficult way. Thinking outside the box to complete objectives will often get you achieving results faster, and ticking off secret objectives too.
Button mashing is encouraged ― otherwise I wouldn't have discovered you can honk at people to scare them. And generally just running wild to see what kind of chaos you can make is hilarious.
I haven't played this as a two-player yet but that's mostly because husband and my co-op games of choice are Lovers in a Dangerous Spacetime and It Takes Two (both of which I will absolutely review later).
I would recommend this to anyone who wants a laugh, and secretly wants to align as chaos neutral.

Have you played Untitled Goose Game?