Monday Mini's: Cozy Grove game
Hello bookworms!! Welcome to Monday Mini's, where today I will be talking about the video game, Cozy Grove!!

Cozy Grove is actually one of my favourite games I currently play, and I've been playing it for a while now. But, more of that below!

If you aren't aware, I've been reviewing a bunch of COZY GAMES that I play. Cozy Games are low-stress games that have little to no combat, and really don't require any gaming expertise or knowledge. Button mash all you like. The games themselves are predominantly story driven, and are just generally cute.

If you're interested in previous games I have reviewed, please see below:
So, let's go take a look at Cozy Grove!!
Mini game review: Cozy Grove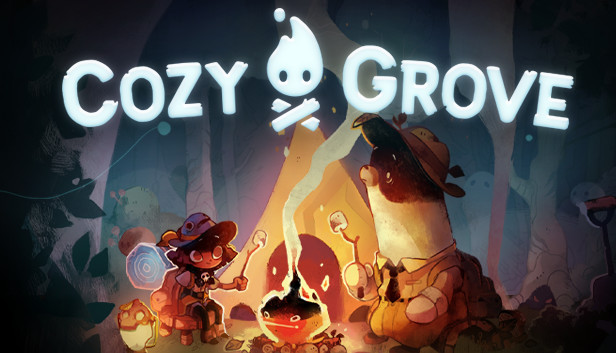 Title: Cozy Grove
Developer: Spry Fox
Release date: March 2021
Players: 1 (single player only)
Platforms: Nintendo Switch, PS4 Xbox One, PC/Mac
Genre: Adventure, Story, Cozy, Hidden Object
Steam link
Cozy Grove:
Welcome to Cozy Grove, a life-sim game about camping on a haunted, ever-changing island. As a Spirit Scout, you'll wander the island's forest each day, finding new hidden secrets and helping soothe the local ghosts. With a little time and a lot of crafting, you'll bring color and joy back to Cozy Grove!

Cozy Grove is synced to real world time, and provides 30-60 minutes of new quest content each day. After that, you can fish, craft and decorate to your heart's content!
the game
Cozy Grove holds a very special place in my heart, as it's one of the first games I chose to play when I found out what cozy games were. I'm also still playing it to this day. And I love the dry humour in it too. Honestly, I feel like this game was made for me.
So, in Cozy Grove, you play a Spirit Scout, which is like a supernatural type of Boy Scout or Girl Guide. Your name is unimportant, as everyone just calls you 'Scout', some variation of this or a nickname they give you that is unique to them. On your quest to get the next Spirit badge, your Scoutmaster has given you directions to an island that you sail to. Unfortunately, Scoutmaster Blake is an idiot, and sends you to an island that is HAUNTED and previous scouts have not returned from.
Unbeknownst to you, and your Spirit flame (Flamey), you arrive on Cozy Grove Island. After you set up camp, you boat (mysteriously) disappears. But it's ok. You make friends with a spirit who looks like a Scoutmaster / forest ranger. If they were bears. With Flamey's encouragement, you help this bear spirit, and they reward you with a Spirit log, which thankfully, is exactly what Flamey eats.

The premise of the game itself if SUPER cute. It's essentially a search and find, hidden object type game, where each real calendar day (like Animal Crossing) you are given mini quests or errands. Unlike Animal Crossing though, it's ok if you miss a day, or a month. The next time you play the game it is the next 'calendar day' as the game marks the days in numbers. (For example, I'm up to Day 37.) The more logs you feed Flamey, the more of the island opens up, and the more spirits you can help.
In terms of gameplay, there is a fishing element (so much easier than Animal Crossing and Stardew Valley) and a farming element too (no crops, but there are trees and bushes you can shake and plants to dig for). And a collections element once you unlock Captain Billweather ― make sure you take him one of every item. On top of this, there's a Spirit animal element that is unique to this game ― it's kind of like a fun puzzle trying to place them.
The art is gorgeous ― it's the beautiful watercolour animation art and I honestly love it so much. The characters are funny and each one brings their own anecdotes and stories to really make them unique.
I honestly could not recommend this game more. As I said above, it's one of my absolute favourites, and if there's only one game you download that I review, please make it this one.

Have you played Cozy Grove?