Hello bookworms!! It's time for the March 2021 wrap up. Which was basically forever ago because April has been a TIME. Is it just me, or is 2021 shaping up to be somehow worse than 2020??
Just like in February, I can't seem to stay on top of things. Except where I was failing at everything except two things before, I now feel like I'm just a lost cause across the board. What even is time management and a work/life balance??
So, let's look at what I did in March. (I'm already working on the April post, so it's fine if you get two in one week, yes??)
March 2021 wrap up

My read book numbers are still trending up (YAY!!) for March. In February I read 8 books, but in March I read TEN!! Admittedly, I basically just read paranormal and romance books… so, LOL. But three of them were over 600 pages each. So, I'm not really complaining!!
SYMBOLS

| | | | | | |
| --- | --- | --- | --- | --- | --- |
| Symbol | Key | Symbol | Key | Symbol | Key |
| ⚔️ | fantasy | ⛱ | contemporary | ? | sci-fi |
| ? | historical fiction | ❤️ | romance | ? | crime / mystery |
| ? | thriller | ? | classic | ? | dark academia |
| ? | paranormal | ? | urban fantasy | ? | smut |
| ? | non-fiction | ? | humour | ? | biography / memoir |
| ? | BIPOC author | ? | own voices | ?️‍? | queer rep |
| ? | mental health rep | ♿️ | disability rep | ? | body positivity |
| ? | dark themes | ? | nerd references | ? | sport references |
| ? | middle grade | ?‍♀️ | young adult | ?‍? | new adult / adult |
| ? | hardcover | ? | paperback | ? | ebook |
| ? | graphic novel | ? | audiobook | ? | gift |
| ? | friend pick | ⏰ | ARC / review copy | ? | Aussie author / #loveozya |
| ? | DNF | ?‍♀️ | buddy read | ? | reread |
| ? | Beat the Backlist | ? | PopSugar | | |

Emoji table for reference
the books
Not sure if anyone remembers, but in March I was planning to do Middle Grade March. I even wrote a whole TBR post on it. You know what I read in March? Basically only smut. The OPPOSITE of middle grade books.
If someone could please explain to me how putting things on a TBR means my brain runs in the opposite direction and I become a mood reader extraordinaire, that would be great!! HAHAHAHA, please help me…
Book

Author

Series / Year of publication

Symbols / Year of publication

Rating

Cover

The Score
Elle Kennedy
Off-Campus #3
⛱ ❤️ ? ? ? ?

2016

4
An Echo in the Sorrow
Hailey Turner
Soulbound #6
? ? ? ?️‍? ?‍? ?

2021

4
Covet
Tracy Wolff
Crave #3
❤️ ? ? ?️‍? ?‍♀️ ?

2021

4
From Blood and Ash
Jennifer L. Armentrout
Blood and Ash #1
⚔️ ❤️ ? ? ?‍? ? ? ?‍♀️

2020

2
A Kingdom of Flesh and Fire
Jennifer L. Armentrout
Blood and Ash #2
⚔️ ❤️ ? ? ?‍? ? ?‍♀️

2020

2
Act Your Age, Eve Brown
Talia Hibbert
The Brown Sisters #3
⛱ ❤️ ? ? ♿️ ?‍? ?

2021

4
The Prince and the Troll
Rainbow Rowell
Faraway #1
⚔️ ? ? ?‍♀️ ?

2021

1
I Bet You
Ilsa Madden-Mills
Waylon University #1
⛱ ❤️ ? ? ?‍? ?

2018

4
I Dare You
Ilsa Madden-Mills
Waylon University #2
⛱ ❤️ ? ? ?‍? ?

2018

4
I Hate You
Ilsa Madden-Mills
Waylon University #3
⛱ ❤️ ? ? ?‍? ? ?

2019

4
the faves
I have to be honest, March's books were such a random pile of things that I read. There were no 5 stars, and of the ones that were 4 stars, most of them should probably be downgraded to 3?! It's at this point in time that I wish I still gave half star ratings so I could change them to 3.5!! The below are the ones I would keep as 4 stars though.
Trigger warning: The Score deals with death of a friend. But, I really liked how this concept played out in a romance novel about a super entitled football player. You don't need to have read the rest of the series for this one, but I was going through the list. As I do.
The Crave series is fast becoming this wholesome little pile of trash to me. Yes, it's a bit dramatic, and when people ask me about it I tell them it's like a better executed crossover between Twilight and ACOTAR. But the thing that I'm really enjoying about it is that there is NO SMUT. This series is genuinely wholesome, despite Tracy Wolff being known as a romance author. And I like it?? So, Covet was a fave of March.
My third book for March is going to be Act Your Age, Eve Brown by Talia Hibbert. I have to say, I didn't like it as much as Chloe and Dani's stories. But I think that's because I just didn't connect to Eve as much as I did the other two. Eve is what I would consider a chaotic good character, and it's done well – so I would recommend this one!!

gaming
I think I spent maybe 4 hours on the Sims all month. No Animal Crossing. No Stardew Valley. There wasn't really any gaming at all…
However, we did play a decent amount of D&D. My group is playing two campaigns simultaneously as DM burnout is a real thing. So, we have the:
The Undermountain – where I play a Kobold rogue, Tikki, who is obsessed with anything shiny, but is also the most optimistic character you've ever met. Tikke will super happily grin while she's lodging arrows in your back.
Into the Big Blue – where I play a Tiefling cleric, Karou, who was raised in a monastery with little outside contact. Karou is on the ship to spend time with her grandfather, but she's so naïvely clueless about everything that I'm having a hard time trying to not come across as vague. I don't know that it's working…
tv and movies
Things I watched in March were:
Endgame (rewatch)
Wandavision episode 9
Derry Girls season 1
Raya and the Last Dragon
American Gods season 2
Falcon and the Winter Soldier episodes 1-2
Zach Snyder's Justice League
Community season 3 episodes 13-22, season 4 episodes 1-15
Can we talk about Zach Snyder's Justice League for a moment?? If you have only seen the Joss Whedon one, then you really have to watch this. It's almost like watching a totally different film. The same characters are there physically (except for Henry's digital lip), but they are WORLDS apart in terms of motivation and personality. Whedon essentially tried to turn the gritty darkness of the DC movies into the more lighter, funny MCU films. And it doesn't work.
If you haven't seen the Whedon version, don't do it. I know the Snyder cut is 4 hours long (and honestly, I'm so glad it was streaming because we needed an intermission), but it's actually worth it. If you like superhero films!
Caption: If you know, you know. No spoilers for everyone else please!!
music
I am nothing without Taylor Swift. This is all I listen to now. Bet you can't figure what I listened to in April?!! Maybe I should just retire this topic…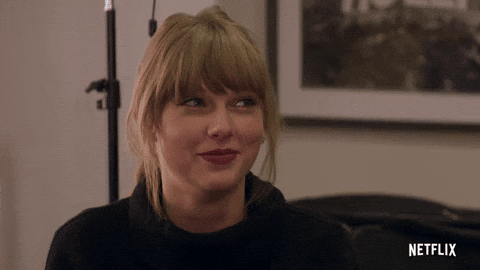 Top 5 Tuesday for March was based on me planning to do Middle Grade March. LOL. March was a time. March topics were:
If you ever feel like joining in late (sometimes we are busy people on Tuesdays) please just drop me a comment or a pingback, and I will happily add you to the list.
I also wrote my first book review (kind of – more like a series review) for the … year. Ouch. I am a bad book blogger… ?

I seem to have lost my long list of posts that I truly loved in March, and I am so sorry. One of the cats was sleeping on my iPad a few weeks ago and just deleted half of my notes that I had. And I don't know how to get them back. However, I still have three March posts of yours that I loved… And this is them:
This is definitely a shorter list than I normally give, and it makes me so sad. But, these three are super stellar posts!!
How was your March 2021 wrap up?